Kasper Guldager Jensen
Founder GXN & Senior Partner 3XN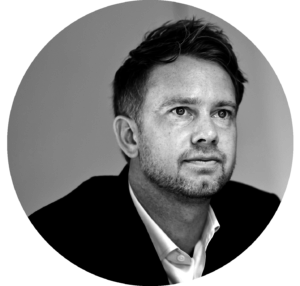 Kasper Guldager Jensen is a Danish architect. He is founder of the innovation company GXN, and senior partner in the architecture firm 3XN. He has distinguished himself in the area of sustainable design and architecture with new materials, which has helped him win several international awards, including the European Union Environment Award and the Energy Globe Award. Beside practise Kasper also holds 3 visiting professorships, with Delft University, University of Calgary, and Technical University Münich.
For 3XN, Kasper Guldager Jensen has been involved in major construction projects such as Quay Quarter Sydney, Toronto Bayside, Reinvent Paris, Mumbai Towers and Kubus in Berlin. In Copenhagen, he is behind acclaimed buildings like the Royal Arena, The Blue Planet and Bella Sky Hotel.
Kasper Guldager Jensen is furthermore behind important GXN projects such as Upcycle Amstel for the City of Amsterdam, Circularity Lab for Google, Noma Foodlab in Copenhagen, Lego Idea Studio in Billund, and the Learning from Nature Pavilion at Louisiana Museum for Modern Art.
Kasper also sits in the circular Economy advisory board for the Danish Government, the Ministry of Culture's Censor Corps, as well as member of the Danish Design Council, the Arts Council, the Academic Architectural Association and Danish Architectural Press.